Hanse 630e
2009 November 2By Sailing Magazine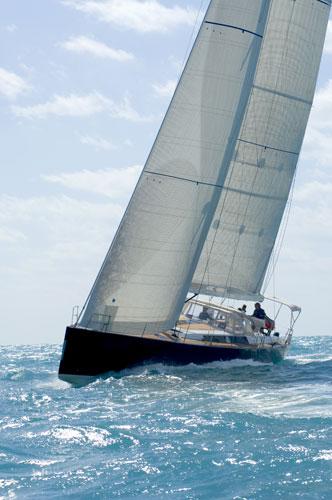 Every now and then the stars align for boat test writers. This rare event occurs when the editors select an intriguing boat to be tested and Mother Nature cooperates by serving up a lively mix of elements. Naturally the setting has to be just right and a few special conditions always help. This celestial moment occurred last February after the Miami Strictly Sail show. The editors did their job, arranging for photographer Walter Cooper and I to test sail the powerful new Hanse 630. Mother Nature kicked in with bright sunshine and 25 to 30 knots winds from the northwest. The fortunate circumstance of a 9-foot draft meant that we couldn't hide out in Biscayne Bay, we had to take the new Hanse flagship to sea and put it through its paces. At times like this it's hard to believe you get paid for doing this stuff.

Hanse is a success story in an industry that desperately needs success stories. The German builder has grown steadily since its first launch, the Hanse 291 in 1993. Today the company produces eight models ranging from the nimble Hanse 320 to the exquisite 630e, and the boats are sold all over the world. Along the way Hanse established market share by consistently combining fresh designs, innovative materials and efficient production techniques to create boats that appeal to a new generation of sailors. Hanse has never been shackled by tradition or narrow categories defining what a sailboat should be.

The details
The new 630e (the e is for epoxy) incorporates innovative factors in abundance. Designed by America's Cup veterans Judel/Vrolijk & Co., the 630 is very fast, uniquely spacious, undeniably sleek and brilliantly engineered for easy handling. It's thoroughly modern above and below the waterline with a long waterline, narrow bulb keel and deep freestanding rudder. And, considering it's nearly 63 feet in length, it's quite attractively priced as well.

We steamed out Government Cut at 8 knots with the 110-horsepower Yanmar diesel purring. Ticking over at 2,000 rpm it was barely breaking a sweat and the ride was smooth. We raised the huge main in the turning basin. The halyard is led aft, under the deck, to a jammer just before the electric primary winch, within reach of the helmsman. This arrangement makes great sense, particularly on a big boat with a big cockpit. Halyards led to the end of the cabintrunk are a long way from the helm station and require additional powered winches. Let's face it, with a 1,272-square-foot main an electric winch is almost essential. Once we cleared the dog-legged marked channel we unfurled the headsail. Although it was just a working jib, and self-tacking at that, we immediately gathered way on and soon we were flying. I wondered if Walter would be able to keep up with us in the photo boat.

The Hanse 630's epoxy hull is light and strong. It's built with pre-preg fiberglass fabrics and then vacuum bagged with Corecell foam before being post cured. The deck is built with an epoxy vacuum infusion process and is also cored with Corecell foam. Carbon fiber is used for backing support in high-load areas under deck. There are longitudinal stringers and transverse floors to maintain rigidity. The keel bolts and backing plates are massive, as well they should be, as the 9-foot, narrow-chord, iron T-shaped keel section requires serious support. Both a lead keel and innovative telescoping keel are options. The bulkheads are securely tabbed in place and encapsulate the stringers. The displacement of 52,318 pounds tips toward the light side of moderate, but that's still an awful lot of raw and finished material, and the 630 feels solid in the water.

We were heading south fast and needed to tack before we ran into the shallows near the spoil area. We hardened up on the mainsheet, an effortless maneuver that required engaging the switch for the electric winch. Ditto for the jib, and then we brought the boat through the wind. The self-tacking jib quickly filled away, we trimmed the main and headed offshore. The lumpy swells of the Gulf Stream were in view and we were closing fast. This was great sailing.

On deck
The Hanse 630 cockpit is large and well designed. Many sailors either appreciate the open transoms or find them concerning, but on a boat of this size it works. The twin carbon wheels not only keep the cockpit flowing from companionway to stern without interruption but also offer excellent visibility on either tack. I've changed my thinking on twin wheels. On boats 50-feet and up they make sense whether underway or at anchor. The twin cockpit tables on the 630 also make sense. They not only allow for all crewmembers to eat in style but the robust stainless frames serve as leg supports when heeled underway. And as we pressed on to windward we were heeling.

We needed a reef; the boat would have sailed better a bit flatter, but photographers hate reefed sails and besides, it was great fun to drive the 630e to weather with just a bit too much sail. Punching into the wind, we maintained 7 to 8 knots of boat speed and although we were kicking up sheets of spray the cockpit was dry-an advantage of an aft cockpit design. The helm was a bit heavy (even if the carbon wheels are amazingly light) because we were over canvassed but the steering was tight and responsive. I like the low-slung profile and unobstructed view of the sweep of the sails from the helm-another advantage of an aft cockpit. So many big boats clutter up the deck; the clean, simple lines of the 630e are most appealing.

Cracking off on a reach we flattened out and accelerated to a steady 9 knots. I made my way forward. Although the teak side decks were wet, the traction was excellent. The low-slung deckhouse could use more handrails, because I don't like to rely on the lifelines when working the foredeck. The 630 has top-quality deck gear. From the retractable stainless mooring cleats, to the below-deck electric headsail furler, to the flush-mounted anchor roller, to flush-mounted deck hatches, keeping the deck uncluttered was clearly a design imperative. In keeping with the sleek profile the stern platform folds down from the transom to form the requisite swim step and also reveals a huge aft locker that can stow a fully inflated dinghy.

The impressive triple-spreader mast-it has an air draft of 84 feet-is aluminum as opposed to carbon fiber, a practical way to keep overall costs under control. The rigging is discontinuous rod, and the runners are vectron to reduce weight aloft and rig wear and tear. The backstays are split, more to keep transom access open than to support the spar, and two hydraulic adjusters are standard. A Harken mainsail track system is standard. The single-point mainsail lead is interesting, and certainly simplifies trim, but I'm not sure it's very efficient and requires that the vang be under near constant load.

Down below
The interior is truly unique. With its mix of white walls and clever storage lockers it feels more like a chic Berlin apartment than a traditional sailboat interior. You will either love it or, well, not love it. It's a refreshing change from the tired interior arrangements and styling of other designs. It's textbook Hanse. The 630 interior is not about incremental changes, there's no nibbling here, this is a new look.

Dropping below, your first impressions will be of light and spaciousness. The designers have made excellent use of the 17-foot-plus beam and have extended the furnishings out to the hull edge. The light is caused by white and mahogany-accented bulkheads, a bright white headliner and white flooring panels that can be individually removed to provide superb bilge access. Several different layouts are available, but the most popular plan puts the owner's cabin forward, just aft of the deck-accessed sail locker. This luxurious cabin includes an island berth, hanging lockers on either side and an en suite head.

The saloon is next and it features a settee to starboard that's like the sofa in your home or office and a table with another sofa-type settee draped around it to port. Some plans include two tables in the saloon. Hanse calls the starboard side the chill out zone, a great name for an area that's often missing from boat interiors; a comfy place to hang out. Of course just how much chilling will be going on when the boat is pounding to weather is another subject, but that's not the design premise. While the 630e is clearly capable of passagemaking, it's more at home as a fast coastal cruiser. And it's really at home stern to a Mediterranean quay, with a large deck awning shading the flush deck.

The interior appointments are nicely done. Excellent joinerwork is in evidence at the handsome nav station, which includes a desk, and a forward-facing repeater station forward. The desk is designed as much for a laptop as a chart. The galley is to starboard just as you enter the cabin. This may be the most innovative and impressive galley I've seen in a production boat. The counters are Corian and neatly incorporate two large sinks. There are two separate refrigeration compartments and a large three-burner LPG stove and oven. In addition to a center island for food preparation, there are also numerous lockers above and behind the stove. Although there isn't an abundance of bulk storage, the locker space in the galley is very well organized. This layout plan includes two cabins aft, and they may come with either twin berths on either side, or a large double. Both feature heads with separate showers. Designers can be quite generous when you have this much space to work with. The multipurpose utility room, aft to port, is especially clever.

The systems on the Hanse 630 are robust. The boat comes standard with 230-volt AC power and of course American boats will also have a 110-volt AC system as well. The DC side features primarily 24-volt items, but also mixes 12-volt systems. The standard service bank is 600 amps at 24 volts, stored in AGM batteries. The electrical and plumbing systems are superbly engineered and accessible. Freshwater tanks are stainless steel with a capacity of 800 liters. Most boats will also be fitted with a watermaker.

A Yanmar 4JH4 Turbo 110-horsepower diesel provides plenty of horsepower, and the 12- and 24-volt alternators are standard, although both could be beefed up from 80 amps. The fuel tanks are stainless steel and hold a combined 600 liters of fuel, which is not a lot for a boat this size but also reflects the performance ethos. This is a sailboat in every sense, it's just a big sailboat.

Under sail
Back on the ocean, the wind showed no sign of letting up. We were having great fun. My stepson Nick took a turn at the helm, and did a great job of driving the boat on a screaming reach. He was excited steering a 63-foot boat at near double digit speeds and I had to pry the wheel away from him. The 630 is remarkably easy to handle. We executed several jibes, and although the main has to be handled with care, the headsail takes care of itself.

Normally I am not a huge fan of fractional rigs, but the 7/8ths-rig and working jib certainly translated into simple and, on this perfect day, thrilling sailing.

The Hanse 630 is primed for success as production boats trend ever larger. This boat is handsome, comfortable and engineered to take full advantage of the innovations that have made sailing large boats within the reach of everyone.